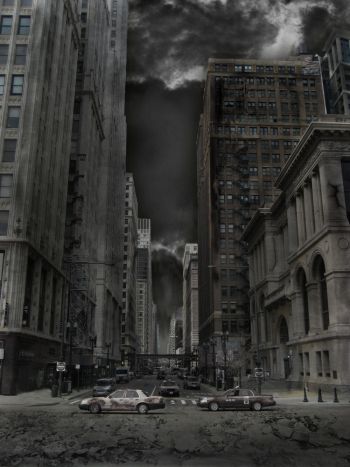 The city has been abandoned.
Its infrastructure has been slowly deteriorating for quite some time, now. Traffic has long since ground to a permanent halt, taxis and trucks rusting by the curbs or abandoned mid-intersection. Most of the ground-floor windows have been shattered. Electricity is spotty, if it can be found at all. The eerie silence is broken only by the wind, the calls of crows, or the gentle collapse of some structure or other. And, of course, the occasional screams.
The city has been abandoned, but it is not empty.
What caused the various outbreaks hardly matters. Viral infection, fungal infection, some new or ancient bacterium suddenly released into the general populace - who knows? What
does
matter is that the city has become home to thousands if zombies, some slow, some fast, some mindless, some retaining a savage kind of intelligence. And they are all so,
so
hungry.
There are weapons to be found or improvised, and places to hide if you're lucky enough to come across someplace well-fortified and otherwise empty. Others have clearly had the same idea, leaving hastily constructed barricades in some places. You might even take those as a blessing, if the conspicuous absence of the original builders doesn't bother you.
They're probably living on a nice farm somewhere.
One thing is certain: if you don't want to succumb to whatever plagues have ravaged this place, you will have to fight for your survival.
[OOC: usual dream party rules apply; all are welcome to participate, and characters can remember or forget at the players' discretion. Also, usual zombie rules apply: if you get bitten, you'll be turned into the sort of zombie that bit you. Whether your characters deal with comically dim shamblers or the terrifying sprinty variety is up to you.
Finally, let's just go ahead and say
tw: violence and gore
for the post as a whole, because it's gonna get messy, folks.]