applesaucemod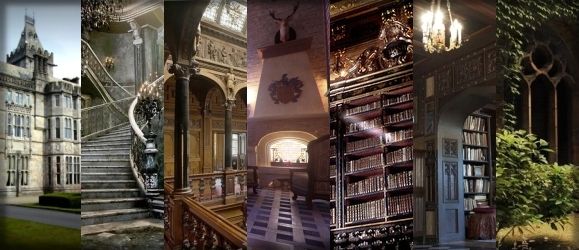 This might not be the first time a given dreamer has found themselves at a fancy party in a large mansion, and dressed in something they wouldn't typically wear. If the architecture is more gothic than usual, well, that could just be a coincidence… but it's probably no coincidence that the dreamers are all wearing Halloween costumes that they decidedly did
not
pick themselves. 'Tis the season! They might look fancy, they might look slapdash; either way, it shouldn't be too difficult for the dreamers to figure out who - or what - they're supposed to be.
The evening's festivities are centered around a grand ballroom. Music is emanating from somewhere or other, and numerous chandeliers are aglow with warm candlelight. Tables line the perimeter, and they're piled with seasonal snacks and bowls of punch. If dancing isn't your thing, there's a whole mansion and extensive grounds to explore.
Those who venture forth will notice that the farther they wander from the party, the less
friendly
things seem. Tidy rooms with fires in the hearths will give way to dark, dusty corridors and neglected spaces. Manicured lawns grow into tangled hedges. As the music fades out of earshot, the house's settling groans and the hiss of the wind through the ivy will be impossible to ignore.
(It was just the house, wasn't it? Sure it was. It was probably your own footsteps that made that floorboard creak, too. And that rustle on the other side of the hedge was just a rabbit.)
All things considered, it might be more comfortable to just stay in the ballroom, where it's warm and cheerful and there are plenty of snacks. A note about the snacks, though: the dreamers will find that the more punch they consume, the more their own identities seem to fade away in favor of a persona more in line with their costumes. A dreamer dressed as a tiger might find themselves inclined to hide behind a curtain and pounce on passersby. A dreamer dressed as a mummy might adopt a stiff-legged gait and dole out a curse or two. A dreamer dressed as a robot might start speaking binary.
At least no one will actually
turn into
anything. That would just be embarrassing.
The good news is that eating any of the available food will counteract the punch's effects, so it's possible to have a fine time and still keep ahold of yourself.
But what's the fun in that?
[ooc: the usual dream party rules apply. All are welcome, whether they've been apped to the game or not. Characters can remember or forget the events of the dream at the players' discretion. Any punch-drinking dreamers will take on the personality characteristics - and potentially the magical/supernatural capabilities - of whatever or whoever they're dressed as, though their physical appearance will remain the same.]